Facebook isn't very good at ad targeting:
So the above image is tiny because I fucked something up when I took the screen shot weeks ago. What you can't see is that there is a Mormon dating site ad right above a gay dating site ad. (For anyone living under a rock, I'm a homosexual.)
Just when I thought it couldn't get any better I got these ads today: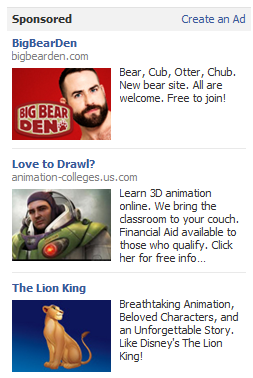 Let's break it down: a creepy gay dating site (sooo not into bears), a school site with a spelling error in the ad, and then a Disney ad to comfort me after the previous two ads?